There's nothing like waking up to the smell of crackling bacon or a fresh pot of coffee! Head out to the campground in the new Dutchmen Aerolite travel trailer for sale at Trailer Hitch RV. This easy camping recipe will help you start your days off on the right foot by making breakfast a breeze. Check out these expert tips on cooking a delicious, campfire breakfast with cinnamon rolls.
Ingredients
Pre-packed cinnamon rolls
Bacon
Eggs
Milk
Cheddar cheese
Salt and pepper to taste
Prep
The eggs: Crack the eggs into a large bowl and season with salt and pepper, add 1/2 milk for fluffiness, and shred 1/3-1/2 cheddar cheese (depending on how cheesy you like your eggs.
The bacon: Cut each bacon strip in half to allow it to cook more evenly and set aside.
The cinnamon rolls: Open the package and set aside the icing for later. Then, you can either line a tin tray with the rolls and create a "sling" or handle from aluminum foil for easy maneuvering, or you can unroll each roll and use a skewer to cook them directly over the fire.
Instructions
You'll want to start with the bacon.  Heat your cast iron skillet over the fire and line it with the cut bacon once it's nice and hot. Cook the bacon to your preference, turning it frequently to ensure even cooking.  Remove the bacon from the skillet and place on a paper plate lined with paper towels to soak up the excess grease.
Add your eggs to the skillet, the grease from the bacon will add flavor to your eggs and keep them from sticking to the bottom of the skillet. Stir frequently until the white are cooked and the cheesy is gooey.
If you're cooking the cinnamon rolls in the tray, you'll want to place them in a dutch oven over the fire to cook for 10 minutes.  Check on them frequently to ensure they don't burn.  If you're cooking them on the skewers, roast them over the fire until a golden brown.
Pro Tip: Thickly slice some tomatoes and roast them in the skillet, or on the grill to add a fresh component to your delicious breakfast.  You can also swap out bacon for sliced ham or sausage links if you're camping for multiple days.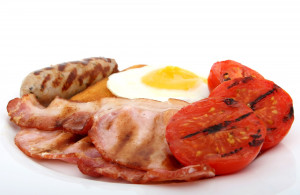 This camping recipe will help you make the most of your summer camping trip by cutting back on the mess, prep time, and making mornings easy around the campsite. Imagine spending your summer relaxing at the campground in a new motorhome, fifth wheel, or travel trailer for sale at Trailer Hitch RV. Contact us today!