2019 Keystone RV Travel Trailer Review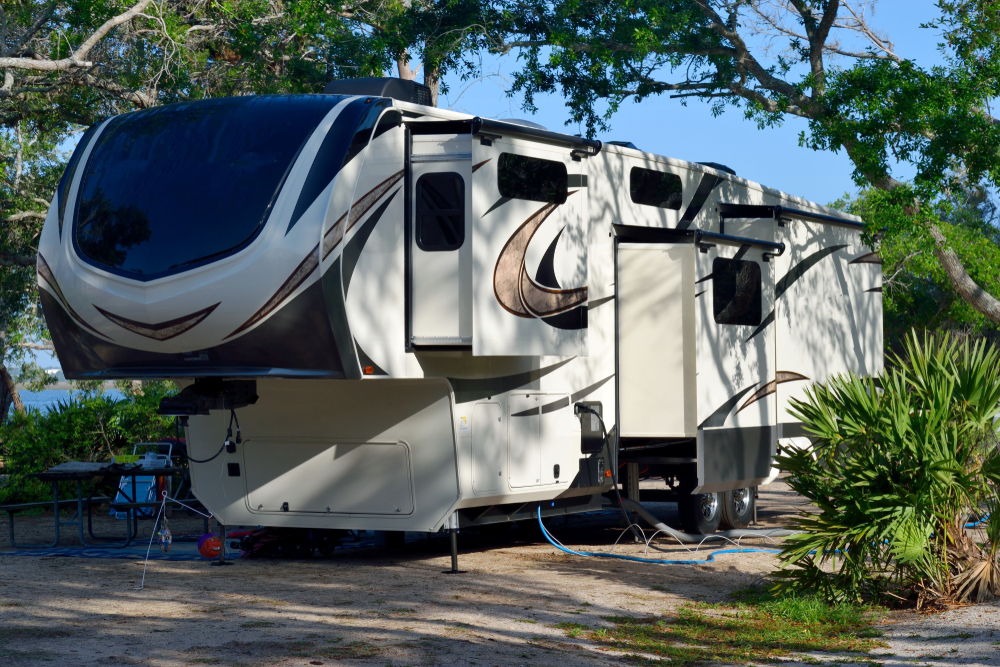 At Trailer Hitch RV, we're focused on helping those in California find a travel trailer they love. Discover the open roads in a 2019 Keystone RV travel trailer.
These travel trailers bring together outstanding towability and style that can satisfy those who have a desire for the open road but want some of the comforts of home. Explore what makes these trailers special with our Keystone RV travel trailer reviews.
Explore New Keystone RV Travel Trailers
Why a Travel Trailer Makes Sense
Travel trailers from Keystone RV offer abundant interior living space, with a stylish and modern décor. Why might a travel trailer make sense for your needs? To begin with, they're easy to tow. Many 6-cylinder sedans can handle a travel trailer, as can ½-ton pickups, SUVs, and even family-friendly minivans.
Keystone RV strives to ensure travel trailers are more affordable than a fifth wheel, while also providing better fuel economy. They're lower to the ground with fewer steps to think about, too. Inside the trailer, you'll have access to many residential-style appliances designed to make you feel at home.
Now, let's take a closer look at the options you'll find in our inventory.
Keystone RV Hideout
For those who want to get out on the road, the Keystone RV Hideout is a great travel trailer to do it in. Hideout brings together features and amenities combined with various floorplan offerings, letting you camp wherever your heart takes you.
A 3-year Limited Structural Warranty and 1-year Limited Base Warranty come standard, providing you with peace of mind while out on the road. Every unit also comes with a Furrion® antenna which is capable of bringing together 4G LTE and Wi-Fi along with a standard VHF/UHF/AM/FM reception.
When it comes time to turn in for the night, the Hideout features a front bedroom/front living space along with a set of bunks. During the day, leave the sofa out for relaxing and at night turn the space into a bedroom. The curved curtain can be drawn for extra privacy, while the kids lounge on the bunks.
Keystone RV Passport
The Keystone RV Passport helps to redefine ultra-lightweight travel, with the Passport GT and SL Series offering more style, comfort, and tech, all while keeping the weight down.
One of the key advantages of the Passport is the outdoor kitchen, which lets you bring dinner outside. There's something about making that meal in the great outdoors that can be highly motivating. Of course, if you do want to keep things inside, the glass top range and oven let you do it. When you're all done, the deep-seated stainless steel sink makes cleanup a breeze.
If you've been out on the trails with a mountain bike or ATV, rinse off using the outdoor shower before getting back inside. At night, relax on the residential-size queen bed and drift off to sleep after another successful camping outing.
Find Comfort in a Keystone RV Travel Trailer
Step inside a Keystone RV travel trailer and see just how spacious and accommodating it can be for your travels throughout California and to sites beyond. Shop our Keystone RV inventory online or contact us today to learn more!